Flora
We used to have a perfectly lovely Bradford Pear in our side yard -- I say "used to" because sometime in the spring of 2010 our town was infested with webworms ....
(no, not the internet web worms, but the tree web worms --
They seemed to be everywhere, spinning their evil webs and doing their best to kill off unsuspecting trees. Unfortunately, our little Bradford Pear fell prey to their webs of destruction.
The poor thing never bloomed again, and the next year it began to turn black and weird looking. It scared me .... I dared not take a photo of it lest a few webworms still lurked about. ; )
We didn't plant anything where it once grew .... thinking we would someday. But then there started a growth of sorts -- strange looking, but interesting nonetheless.
It grew and grew ..... and became an alien being.
Now I'm scared to chop it down for fear of the alien creature that surely lurks among its branches.
Evil pods waiting to hatch its alien babes
I think I'd better make me an aluminum foil hat like in M. Night Shyamalan's "Signs" ......


Fauna
Speaking of weird alien creatures ....
Here's the fauna that lives in our house. As I said, very strange.
He goes by the name of Oliver and looks very much like your common everyday kitty, but I think that's just to throw us off ....
though he does manage to look very innocent ....
If you have a cat, please be careful. I think they're communicating with the Mother Ship.
♥♥♥
Linking up this Flora and Fauna silliness over at Miss Jenny's where we are studying the letter F for
Alphabe-Thursday
!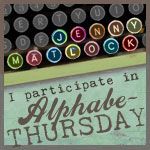 Signs photo credit
♥♥