What do you picture when you think of moths?
The ones that eat your favorite wool sweaters?
The ones that love to fly around your porch light?
But, surely not THIS!!
This huge, ginormous Monster Moth ....
I happened to look out a window and saw this giant moth on the screen door of my greenhouse
(OK so there is nothing "green" in my greenhouse -- but there is a lot of plastic! In the form of plastic bins holding craft stuff, Christmas stuff, ceramic bisque stuff, wood stuff .... some of them do have green lids though.)
But I digress .....
This giant 3 inch long moth was hanging on the screen part of the glass door. Three inches! I kid you not!
I grabbed my camera and rushed out -- he (she?) was still there. I snapped a few shots, then wondered if I could get a belly shot.
I eased open the door, fully expecting him to fly away .... but he stayed! I even eased the glass part of the door down so that I could get more light, and he stayed! That moth wasn't going anywhere! He could have been more accommodating and spread his wings or something, but that was not to be.
He stayed there all day -- I'd go back and look out the window and he'd still be there! Gone the next morning though -- guess he had to go find something to eat! What do moths eat anyway? Besides wool sweaters that is!!
♥♥♥
Linking my Mega Moth to
Alphabe-Thursday
over at Miss Jenny's where we are studying the letter "M."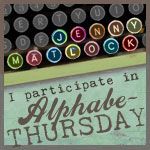 ♥♥