OK, so maybe he's not really a weighty lizard....
But he is a lizard on weights!!
And quite a stretch for the letter W....
Oh well, you can't be wonderful and witty all the time....
♥♥♥
Linking my weighty lizard over at
Miss Jenny's for Alphabe-Thursday
where we are studying the letter W.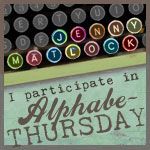 ♥♥