I love sunsets. Sometimes they are so majestic, other times just a slow sinking of the sun without much fanfare.
I was treated to a majestic one not long ago ....
The sun looks like a white hot ball floating through the trees ....
Gold in the heavens ....
Slowly sinking ....
Almost down, to be replaced by the moon ....
How can we ever doubt the presence of God?
♥♥♥
I'm linking the gold of the night sky to
Alphabe-Thursday
over at Miss Jenny's where we are studying the letter "N."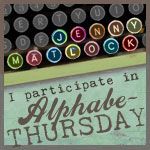 ♥♥