or, How to Build a Computer, Noli Style : )
Noli ~ I need a box.
Me ~ What kind of box? A shoebox?
No, bigger!
How big?
This long and this tall (holding out her arms)
Hmmm. I raid my box supply. Ah-ha! A priority mail box -- I don't think the PO will mind that it gets used for a kid project....
I still have no idea what she's making!
Noli ~ It's a computer, silly!
Follow along, 'cause here's what we did! We put the box together except we didn't close the top flaps. Cut a big hole in it for the screen. Left a flap down for the keyboard.
It was kind of floppy so we glued popsicle sticks to hold the screen up.
Noli gets out the construction paper and crayons, and busily draws.
She's making games for her computer.
They are called Heart Search, Treasure Box, Kitty Lost, Try to Get the Dog's Snowflakes, Bats Suck Blood and Candy Girl. The last two are Halloween games.
Bet YOUR computer doesn't have popsicle sticks!!
Linking up Noli's computer to
Alphabe-Thursday
over at Ms. Jenny's for the letter C!!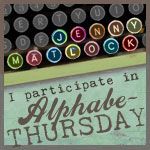 ♥♥