Onesies, Twosies, Threesies -- do you remember playing jacks?
I was going through a drawer the other day .... no, not cleaning it out, merely
going through it
....
why on earth would I clean out a drawer anyway?!! If you clean out a drawer, there't nothing fun in it to go through ....
Anyway, I came across this little bag of jacks. They were mine and I hung onto them for reasons unknown -- although I did love to play the game! I guess the ball bounced away a long time ago!
Obviously old, just look at the bag! From ancient times for sure!
I wrote "Jax" all over it to identify its contents lest anyone (my brother...) think it was just a bag to be tossed out ....
They were red, blue and silver, four of each color,
although it's hard to tell now!
And made of steel -- I tried it and they stick to a magnet!
I remember playing Jacks for hours on our front porch (screened in, wood floor, perfect playing area). And if none of my friends could come out to play, it was a game that was just as fun played alone. We went through the typical turns of picking up one at a time, then two at a time, then three and so on. Picking up all ten at the same time was always a challenge for little hands!
There were lots of variations and made up games -- I remember one where we had to hold the picked up jacks on t
he back of one hand while bouncing the ball and picking up with the other hand -- all before the ball bounced twice! You had to concentrate -- it was like patting your head with one hand and rubbing your tummy with the other at the same time!
When you threw them and a couple landed piggy-back like this, it meant something ....
but for the life of me I can't remember what!
Did you play jacks when you were a kid?
♥♥♥
I'm linking up my jacks to
Alphabe-Thursday
over at Miss Jenny's where we are studying the letter "J."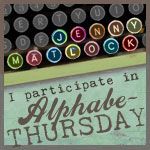 ♥♥