I was driving down a street when I saw this.....


Do kids actually do this anymore?
Well, apparently so :p
Naturally, I thought BLOG!!

So I made a quick run home, and dashed back lest the tp'd parents pull down all that glorious paper waving in the breeze.....
And look at this!
They even got the fire hydrant!
And left some cardboard reminders that they had been there....
When I was in high school, I got tp'd -- I, of course, thought that was the absolute, hands down, best!!
My father, however, did not share my excitement, and proceeded to have me pick up all the paper on the grass -- while he got out the ladder and got all that he could from the branches. And it was a BIG oak tree!
I begged him to leave it for a day (so others could come by and see, you understand) but no, he had to take it down right then. The yard had to be pristine and who were those rapscallions anyway who would do such a thing? Those rascals. Those scamps. Those scalawags and hooligans.
My friends, that's who!!
and I secretly smiled.
♥♥♥
Linking up the TP fun over at
Miss Jenny's for Alphabe-Thursday
where we are studying the letter T!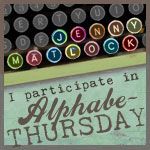 ♥♥