One of my favorite groups to watch on our local PBS station is Celtic Thunder. They sing beautifully, they are fun to watch.... and who can resist a man in a kilt!!
I want to share two YouTube videos of this amazing group -- one of their most fun songs... and one especially for Christmas.
This is "A Place in the Choir" and if you watch a bit, you'll see these guys dancing a jig! Here are the lyrics (and the chorus is the cutest part! -- "some just clap their hands or paws or anything they got") Love it!
Chorus]
All God's creatures got a place in the choir,
Some sing low and some sing higher,
Some sing out loud on the telephone wire,
Some just clap their hands or paws or anything they got.
[Repeat Chorus]
Well listen to the bass its the one on the bottom,
Where the bullfrog croaks and the hippopotamus,
moans and groans with a big to do,
And the old cow just goes moo.
The dogs and the cats, they take up the middle,
Where the honeybee hums and the cricket fiddles,
The donkey brays and the pony neighs,
And the old gray badger sighs.
[Chorus]
Listen to the top with the little birds singing,
And the melodies and the high notes ringing,
And the hoot-owl cries over everything,
And the blackbird disagrees.
Singing in the night time singing in the day,
And the little duck quacks and he's on his way,
And the otter hasn't got much to say,
And the porcupine talks to himself.
[Chorus]
Its a simple song living song everywhere,
By the ox and the fox and the grizzly bear,
The grumpy alligator and the hawk above,
The sly old weasel and the turtledove.
And, because it's the Christmas season, I thought I'd share "Silent Night," Celtic Thunder style.
They sing it beautifully, first in Gaelic and then in English.
A few nights ago, also on our local PBS station, I watched Celtic Woman perform. Their voices are so pure and almost mystical. I even took a few photos of the TV screen!
Love the one who plays the violin -- even with all the dancing around she does, she never misses a note!
She frolics around that stage!
I thought this one came out pretty cool -- with all the moving around they do, the shot created its own overlay! Even with my action setting, it's hard to get a clear shot!
♥♥♥
Sharing on
Alphabe-Thursday over at Miss Jenny's
where we are studying the letter C!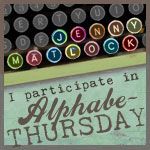 ♥♥