Did you know there was a breed of cats known as RagaMuffins?
Well, me neither!!
According to
Wikipedia
, you can prepare to pay upwards of $1000 for a pedigreed RagaMuffin kitten!
But, having my own (human) ragamuffins, I have certainly shelled out much, much more than $1000 on their upkeep, feeding, and housing ....
Which leads me to another definition of a ragamuffin that is "a ragged, unkempt person, especially a child" or, "a dirty, shabbily clothed child; an urchin." Now
that's
the kind of ragamuffin I'm talkin' about!
And apparently they have run rampant in my family ......
Ragamuffin Adam
my son at about age two -- about as ragamuffin as you can get!
Right down to the overalls ....
my brother when he was probably around three -- but this was back in the late 30s! Photographers used to bring ponies to your house to sell photos to moms....
that pony looks like he's a bit tired of kids sitting on his back
Ragamuffin Pony!!!
I've got one of myself on a pony too ....
But I'm not nearly as ragamuffin as my bother!!
I'm just downright cute!
I can be a full-fledged ragamuffin too
sitting on my rock
And if you want REAL ragamuffins, look at my hubby, circa mid-50s
He's the one on your right
Don't they look like kids from Our Gang aka The Little Rascals?!
Here are those two rascals again.....
this time standing on an old bed frame -- with springs!
They just let the kids play on anything back then!!
This is as close as I could get for my daughter --
she was just not a ragamuffin at heart
But she does have those overalls!!
Noli's not much of a ragamuffin either.....
But she sure has fashion sense!!!
♥♥♥
linking all my ragamuffins over at Miss Jenny's for
Alphabe-Thursday
where we are studying the letter R!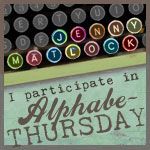 ♥♥