Haircut!
Noli asked, "who do I look like?"
"Shirley Temple," mom says
"Who's that? Everyone says that."
So mom pulls up Wikipedia and Noli wanted to read it.
According to mom, "She read the first paragraph in twenty minutes like an explorer hacking through the jungle with fierce determination. A lot of the words I helped her with, like "autobiographer" and "retire" -- they brought an adamant "I KNOW" when I tried to define them."
Do you remember Shirley Temple?
and her curls?
We were in an antique store the other day and I saw a Shirley Temple doll -- dress in her red polka dot dress from "Stand Up and Cheer." I showed Noli and she said -- "I KNOW. I see her ALL THE TIME!"
Little smarty pants.....
I didn't have a Shirley Temple doll, but I had Shirley Temple paper dolls! I can remember carefully cutting out her frilly dresses. And I watched all her movies on TV after I was grown up -- and thoroughly enjoyed them!
I just might have to check out NetFlix and see if I can find her movies and watch them again.....
♥♥♥
Linking Shirley Temple and her curls over at Miss Jenny's for
Alphabe-Thursday
where we are studying the letter S. Take a trip over and check out some more fun S stories!!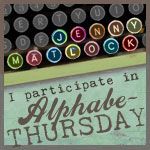 ♥♥