On the way back from school, Noli and I stopped by the nearby Farmer's Market to pick up a few goodies -- goodies which just happened to be....
We bought yellow Golden Delicious apples
They are my favorite says Noli (but she wouldn't eat one with dinner). They are my favorite too, says I.
Um, can you tell which one is just a bit different?
Yellow bananas -- these are just about ready....
Well, not that glass one -- it never gets ripe!
I can't stand that green taste so when they get really ripe and all nice and speckled, I have to eat cereal with bananas for breakfast and banana sandwiches for lunch!
Noli and mommy can eat them when the peel is still green -- YUCK!!
Noli wanted to get dried fruit and picked these pineapple chunks.
Don't they look delicious?
And they are!!
(I keep sneaking them, but shhhhh, don't tell Noli...)
We also got sweet potatoes, or as some call them, yams.
(For today's Y lesson, they are yams!)
And, er, yam chips!
Yes, that's a clothes pin -- that's what I use for a chip clip.
We dug into those chips right away!
We had a Noli style dinner of mac 'n cheese and little green peas
(they are NEVER just green peas in my house, always little green ones!)
After dinner a purple cat came to visit...
she enjoyed drinking her water from a yellow glass...
and mommy entertained us with her guitar.
Hey, that guitar is kinda yellow too!!
We carved a second Halloween pumpkin too, but you'll have to check back in a day or two for that!
Here's a hint.... it's a kitty pumpkin!
Because if you know Noli, you can expect kitties in all shapes and colors!
♥♥♥
Linking my yellows to
Alphabe-Thursday over at Miss Jenny's
where we are studying the letter Y.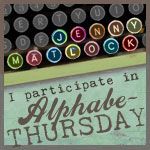 ♥♥